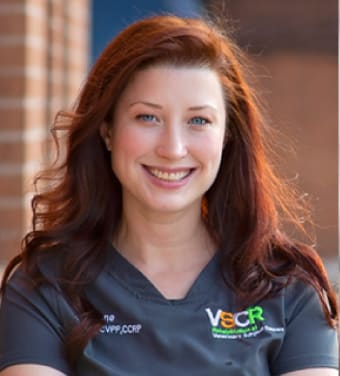 Anne Lindsay
RVT, LVT, CVPP, CCRP, VTS (Clinical Practice - Canine/Feline)
Anne Lindsay is a native of Northern Virginia. She attended Annandale High School, and went on to obtain a Bachelor of Arts in Philosophy from Sweet Briar College in 2005, with GPA of 3.7 in her major. Not wanting to attend graduate school and unsure of what to do with herself after graduation, Anne started working as a veterinary assistant at a primary veterinary clinic.
In 2007 she attended Northern Virginia Community College and graduated with an Associates in Veterinary Technology in 2009. In 2010 Anne moved to Maryland and worked as a RVT in the emergency department at the veterinary specialty hospitals: Blue Pearl and Dogs & Cats. She has 11 years of emergency medicine experience and over 1 year of oncology experience. Having worked at specialty hospitals Anne has lots of experience working closely with the internal medicine, cardiology, neurology, oncology, and surgery departments. In 2019 Anne decided to pursue other avenues of vet medicine and attended The University of Tennessee's CCRP and CCMT courses. Anne has a keen interest in pain management and became a CVPP from IVAPM in 2020. Anne also became a CCRP in 2020.
At the beginning of 2022, Anne received her VTS in Clinical Practice (Canine/Feline). Anne is Fear Free Certified and RECOVER CPR BLS/ALS certified. Her current endeavors to further her career include becoming a VTS in emergency & critical care, and becoming a Certified Canine Manual Therapist (CCMT) and Certified Myofascial trigger point therapist.
Anne has grown up with cats, and currently has one. Anne has a big passion for big cats and has volunteered as a keeper aide at the lion/tiger enclosure at the National Zoo for over a year. After traveling to Kenya in 2015, Anne grew a passion for African wildlife. She traveled to South Africa for 1 month in June 2021 to perform veterinary work on the African wildlife, and will be visiting again in September 2022!