Veterinary Internal Medicine Services at 
Hope Advanced Veterinary Center
Diseases of the cardiovascular, gastrointestinal, nervous, endocrine, urinary, pulmonary and immune systems, as well as issues with the pancreas or spleen, are diagnosed and treated by a veterinary internal medicine specialist. 
If your pet has an illness or symptoms that your family veterinarian is unable to diagnose or treat, they can be referred to our compassionate internal medicine specialists for more advanced care. 
At Hope Advanced Veterinary Center, we take a comprehensive, team-based approach to our cases and work not only with your veterinarian, but also with other specialists to ensure the best care for our patients. 
Referrals from your primary vet are required for internal medicine consultations.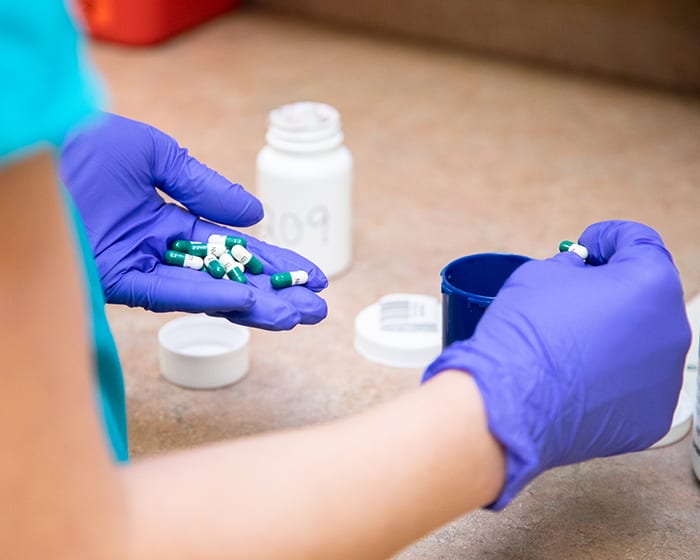 Veterinary Internal Medicine Specialists
Our veterinary internal medicine specialists have advanced training in veterinary internal medicine, including a one-year internship and a three-year residency after veterinary school. 
Treating Disease in Pets
After your primary care vet has referred you to our internal medicine specialists, we will conduct a thorough physical exam for your pet to develop a diagnostic plan and create a comprehensive treatment plan tailored to your pet's needs.
Commonly referred conditions include:
Diabetes Mellitus
Cushing's Disease
Renal Failure
Infectious Diseases
Veterinary Internal Medicine Services
Our internists at The Hope Center are committed to providing the best quality care and treatment options for our patients. Treatment options can include:
Rhinoscopy
Thoracocentesis
Abdominocentesis
Diabetic Management
Total Parenteral Nutrition
Transfusion Medicine
Endotracheal/Trans-tracheal Wash
Feeding tubes: Naso-ET, Naso-GT, Esophageal, & Gastric